Bellator 238: Five fights to keep an eye out for
Bellator is coming back to the legendary Forum in Inglewood, Calif. on Saturday night with an action packed fight card. Starting off the decade as he means to go on, Scott Coker is treating the fans to a card filled top to bottom with exciting bouts and big names, so here is a quick look at some of the standout bouts which could set up big fights later on in the year, and some that may go under the radar but should be looked out for once the cage is locked for the first time in Southern California:
Darrion Caldwell (14-3) vs. Adam Borics (14-0)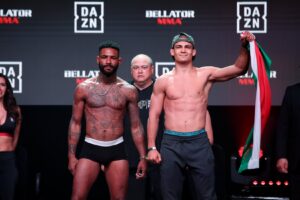 This is the obvious one. The Featherweight World Grand Prix is beginning to ramp up and it's hard to predict which quarter-final match up has the future champ competing in it. Anyone could win it at this point, and this should be a good one. Former Bantamweight champ, "The Wolf" Darrion Caldwell has his eyes on being a two-division world champion. After a back and forth with Kyoji Horiguchi, during which Caldwell lost his Bellator belt and had his attempt at claiming the RIZIN gold denied, the New Jersey native set out to look for a new challenge. The FeatherweightWGP was exactly what he was looking for. A tournament, four rounds Mano a Mano, with the overall winner being crowned a champion. Prize fighting at its best. Stylistically, the 32-year-old is an uncomfortable matchup for most of the participants through his wrestling, but his QF opponent, undefeated Adam Borics, is a puzzle that is yet to be solved.
Hailing out of Hungary, "The Kid" has emerged as one of the favorites to make the final with his exciting style and the "always looking for a finish" mentality. He quickly became a fan favorite and someone that other featherweights did not want to come up against in the early rounds of the competition. His trademark flying knee got him through the qualifying round against Pat Curran, and his unpredictable, dynamic style sets up a very intriguing matchup against a fighter who loves to take fights to the ground in Caldwell. For Borics, it's not only a semi-final spot that's on the line, but also his 0. The only other man that still boasts an undefeated record in the Grand Prix is A.J. McKee, who has already secured his spot in the semi-finals, and Borics will be determined to keep his streak going and do the same on Saturday night.
Henry Corrales (17-4) vs. Juan Archuleta (23-2)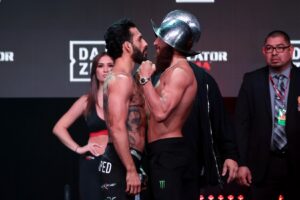 This matchup is nice and interesting for several reasons. One, it is between two featherweights who suffered defeats in the first round of the Grand Prix. Two, the winner of this one will put himself in a nice position for a big fight later on in the year, potentially a No. 1 Contender eliminator to face the eventual winner of the GP. So, make no mistake about it, this fight is not meaningless by any means. Corrales' five fight winning streak was the victim of Caldwell's wrestling back in September of last year, and the California native will be determined to get back into the win column with what would be a massive victory over "The Spaniard."
Archuleta was widely considered as the clear second best Featherweight in Bellator heading into his September title fight against Patricio "Pitbull" Freire, who eventually handed him his first loss in the Bellator cage, and also the first loss of his career since 2015. It may have been a little bit of a reality check for "The Spaniard" who was oozing confidence in the build up to that Pitbull fight, riding an 18-fight win streak, so it's going to be interesting to see how he bounces back from a loss on Saturday against an opponent that is certainly no slouch. This could be a big one in the 145-pound division.
Aaron Pico (4-3) vs. Daniel Carey (7-3)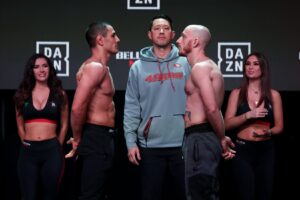 After bursting onto the Bellator scene with four consecutive first round KO victories, Aaron Pico's hype train was violently brought to a halt by devastating losses to Henry Corrales and Adam Borics. But, despite those two bumps in the road, Pico is still a very highly rated prospect in the eyes of Coker and his partners, and that's evident by looking at his next opponent. Daniel Carey can probably be considered a bit of a step down in quality from the likes of Corrales or Borics, but he is certainly no gimme.
Pico clearly needed to take his foot off the gas a little and drop down a level in order to continue his development at a still tender age of 23, but Carey has just recently derailed one promising prospect in Gaston Bolanos back in September of last year, and the potential of yet another upset must be enticing for the 30-year-old featherweight. With all that being said, Pico desperately needs a win here. The California native needs to show some of that upside that was crystal clear as recently as 18-months ago when he bulldozed through Leandro Higo. Pico needs to show signs of improvement and get back into the win column, but "Scary" Carey will be more than happy to stand in his way, making this a yet another very interesting bout at 145-pounds.
Ava Knight (1-0) vs. Emilee Gettys (3-4)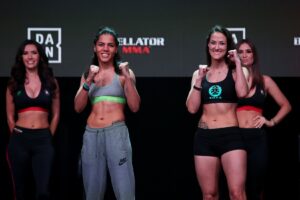 The 31-year-old, former WBC and IBF women's boxing champion, Ava Knight, threw herself right into the deep end during her MMA debut at Bellator 228, also in Inglewood, back in September. Knight showed off some spectacular striking during her bout with Shannon Goughary, but she needed to overcome a ton of adversity and almost three full rounds to put her opponent away. Knight endured some pressure off her back after being taken down by her opponent, and the Chico, Calif. native showed a lot of promise by remaining composed and not panicking in her first competitive experience of defending submission attempts and takedowns. Eventually, the striking came through for Knight as she secured the win via a vicious body shot, but it's going to be interesting to see her development four months later.
Across the cage will be 26-year-old Emilee Gettys, who is set for her Bellator debut. Gettys comes into this fight as a bit of an unknown to the average MMA fan, but on the back of a three fight win streak under the Valor Fighting Challenge banner nonetheless. The experience level of Gettys is similar to Knight's first opponent, and it is worth nothing that two of her last three wins have come by way of submission, meaning it will be another solid test for Knight against an opponent who will likely favor taking the fight to the mat.
Anthony Taylor (6-5) vs. Chris Avila (7-8)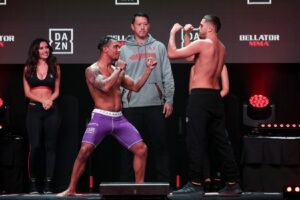 Last but not least, this is likely the least meaningful fight of the five in terms of the immediate future, but potentially the most exciting one of the lot too. These two are brawlers. All that needs to be said is that Avila is a teammate of the Diaz brothers to tell you that there is a high chance of blood in this one. Avila hasn't been able to establish himself as a top contender yet in his still relatively young career. He has lost six of his last seven, but is 1-1 since joining the Bellator ranks back in 2018. It is also worth noting that Avila has never been stopped which shows that typical grit and heart of a Cesar Gracie Fight Team product.
Taylor is on the opposite side of the spectrum heading into this one. "Pretty Boy" is strutting into this bout on the back of a four fight win streak and returning into the Bellator cage after a two year absence (Loss to Borics in 2017). Taylor is 5-2 since he was last seen in the Bellator cage having fought under promotions such as BAMMA and Combate to name a couple during his two and a half year hiatus. Now, the California native is set for a return rendezvous against a very tough and durable opponent in a bout which could be a Fight of the Night contender.
* All photos courtesy of BellatorMMA (Facebook) 
Sports journalist based in CA, USA.
Twitter: @ArionArmeniakos