Bellator Birmingham Review
A closer look at the action from a fantastic night in Birmingham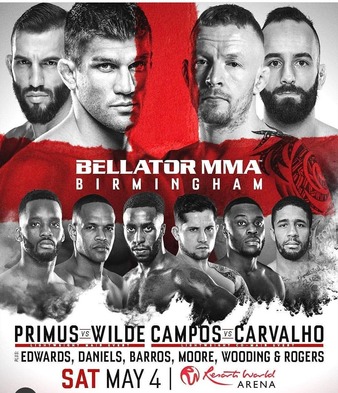 A stacked 18 fight card made it's way to Birmingham, England on Saturday night, headlined by former world champion Brent Primus against Birmingham's own Tim Wilde. Kicking off the main card was the highly anticipated return of Raymond Daniels. The American is the current Bellator Welterweight Kickboxing champion and hasn't competed in a MMA fight since 2008. He was facing fellow kickboxer Wilker Barros who was making his professional debut inside the Bellator cage. From the off it was clear to see we were going to witness high level striking and it did not disappoint. As Daniels faked a spinning kick, he loaded up a enormous right hand which knocked Barros out instantly. Raymond Daniels certainly lived up to his nickname 'The Human Highlight Reel' with the finish.
Next up was Bellator veteran Derek Campos against the streaking Pedro Carvalho in a lightweight bout. The intensity was there to be seen in the weigh in stare down and SBG's Carvalho put on his best performance to date. He found a home for his strikes early on and delivered 3 brutal liver shots which set up a 3 punch combo to floor Campos and finish the fight inside the first round.
The co-main event was the homecoming of Fabian 'The Assassin' Edwards against Falco Neto. After a fiery weigh in face off on Friday afternoon, this fight was highly tipped to not go the distance. From the off, it was clear to see Neto wanted this fight on the ground but Edwards wanted to keep it standing. Neto successfully took Edwards down but struggled to land anything significant. Fabian landed a upkick and to the surprise of the crowd, Neto stayed in range so Edwards landed 2 more and stunned Neto. As Fabian got up, he landed a left hand which dropped Neto and the referee stepped in to stop the fight.
The odds were stacked against Tim Wilde as he stepped in to make his Bellator debut. Standing in his way was recently de-throned lightweight champion Brent Primus. As soon as the bell went for the start of the fight, you could see a big size difference between the pair. As Primus threw a kick he lost his balance and Wilde caught him with a right hand which floored the American. The hometown fighter jumped into Primus' guard and with Brent owning a black belt in Brazilian Jiu Jitsu managed to pull of a Gogoplata submission to silence the Birmingham crowd. Primus called for a trilogy fight with Michael Chandler later in the summer.
Check out the full results below.
Main Card
Brent Primus def Tim Wilde via submission (gogoplata) Round 1- 1:20
Fabian Edwards def Falco Neto via KO (up kick and punch) Round 1- 3:51
Pedro Carvalho def Derek Campos via KO (punches) Round 1- 2:03
Raymond Daniels def Wilker Barros via KO (punch) Round 1- 4:36
Preliminary Card
Saul Rogers def Aiden Lee via Decision (unanimous)
Brian Moore def Binh Son Le via Decision (unanimous)
Kane Mousah def Mateusz Piskorz via Decision (unanimous)
Lee Chadwick def James Mulheron via Decision (unanimous)
Yannick Bahati def Amir Dadovic via submission (kimura) Round 1- 3:00
Dominique Wooding def David Khalsa via TKO (punches) Round 1- 2:43
Jim Wallhead def Giorgio Pietrini via Decision (unanimous)
Gavin Hughes def Mohammed Yahya via submission (rear naked choke) Round 2- 4:51
Ashley Reece def Craig Turner via Decision (unanimous)
Dan Cassell def John Nicholls via TKO (punches) Round 1- 3:09
Akonne Wanliss def Sam Slater via TKO (punches) Round 2- 3:55
Raphael Uchegbu def Lee Percival via submission (triangle choke) Round 1- 2:14
Nicolo Solli def Simon Ridgway via TKO (punches) Round 2- 4:32
Kieran Lister + Constantin Gnusariev via Draw (split)
Follow me on twitter: @ReeceManUFC
Follow the team on twitter: @MMALatestNws