Former MTV DJ Sean Gilley is ready to prove himself amongst the pros, wants to debut with Bellator
If Sean Gilley is a name that you are aware of, there is a strong chance that his recognition came from DJ'ing, with no bigger platform than MTV behind him. Well, now Gilley is looking to move past that era of music and lifestyle and has strongly invested his time into becoming a mixed martial artist professionally for Bellator.
"The idea of turning pro (interests me), I've always been interested in prizefighting, I am 28 years old with a massive DJ career as an MTV DJ (that I am) leaving behind to do this full time, I am not getting any younger and I know it's the right time to grab it by both hands, it's time to make a massive impact and a difference, I have a lot to bring and I won't disappoint."
In 2019, Gilley made his first appearance in a mixed martial arts bout as an amateur, now, he looks to seize another opportunity. Bellator have been a promotion that Gilley has been paying close attention to and he has aspirations to compete under the Bellator banner.
"Bellator has always been the goal (in mind), when they come back to Newcastle I will sell that place out, I can always bring a massive audience to Bellator with me."
Gilley spoke of his admiration for Bellator and what caught his attention to the brand that made him fall in love with it, and feels he is willing to have a one-fight deal to earn himself a contract. " (I can) always remember Michael Chandler and Eddie Alvarez' first fight and I was blown away, I have always been a massive fan of the company itself and what Scott Coker has done with Bellator."
"I know I would be at home, I would be willing to even accept a one-fight deal to show them and prove to them that I belong there, I am not interested in any other company other than Bellator, it has always been a personal dream of mine to get my hands in them red or blue gloves."
My own goal right now is to have my hands in these gloves @BellatorMMA @Bellator_Europe #newcastle2020 👊🏼 pic.twitter.com/s4sOI8Uyi9

— Sean Gilley (@OfficialGilley) July 5, 2019
No stranger to Bellator fans, Anthony 'Pretty Boy' Taylor has opened his arms to welcome Gilley to the organisation but for Gilley, he sees this as more of an opportunity for Taylor, as opposed to himself.
"He (Taylor) is just after the limelight and the attention because he's not getting it anywhere else, he loves a good trash talk but there is no competition (for me)."
Anthony Taylor does bring a strong following to the cage and helped create a big story for his bout with James Gallagher, which got a lot of people invested to see it. Gilley does see this as something that could potentially happen down the line.
"I think it could happen 100% in the future. We would hype this fight up and bring a massive audience and how do you think that fight would go with him? He would ask for five minutes to get his breath back, he wouldn't make it past the first round, he is just a gas tank that swings for the heavens."
While pursuing the goal of becoming a Bellator fighter, Gilley has completely stepped away from what brought him success in the music industry and is now full-time training in mixed martial arts.
"I have 100% put that behind me, my last gig was for Floyd Mayweather in Liverpool, (it was) one of the best nights of my life but when I was DJ'ing it was full time, non stop every night and I had no time for myself or even training but you can never say never (on returning to DJ'ing), it made me the person I am today and I am truly grateful for everyone who supported me such as MTV & The money team."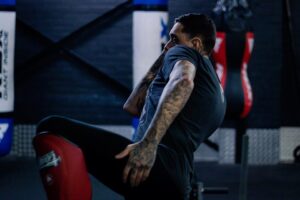 A happy fighter is a dangerous fighter as they say, and Gilley is happy right now, especially having the backing of First Round Management and Abraham Kawa in particular.
"I have the best management in the world, working alongside Abraham Kawa, who manages some of the biggest names in the sport such as Jorge Masvidal, Jon Jones, Yoel Romero and the list goes on. I am truly grateful to have them behind me and to look forward to the future with."
Bellator London would be an ideal place for Gilley to debut, but if not, we will keep you up to date on the process of Gilley and his pursuit of a professional mixed martial arts career.
Authors: Caoilte de Barra & Jay Farrell