ONE Championship Century: Storm in a Green Tea Cup
7 Title Fights on the Line in Sunday's ONE Championship Mega Event in Tokyo
A storm is coming to Tokyo – both literally and metaphorically! Typhoon Hagibis – the largest to hit Japan this season couldn't have come at a worse time for Japan's sporting calendar. Two Rugby World Cup matches have been cancelled and the weekend's blockbuster ONE Championship card is under threat.
A cancellation would be a disaster for ONE Championship who have thrown everything including the kitchen sink at the Japanese event. Titled "Century," because according to the ever-modest CEO Chatri Sityodtong, this event "…signifies the greatest martial arts event in the last 100 years", it also celebrates ONE Championship's 100th event.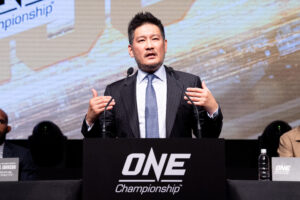 Chatri has high expectations. "Our current estimate is that we will have 70 million viewers for ONE: CENTURY, making it the largest martial arts event in history." (For comparison – the highest pay-per-view buys from any UFC event was 2.4 million for UFC 229: Khabib vs McGregor.) Whilst the viewing metrics can be disputed, what is certain is that this is the largest and most expensive event for ONE Championship and they have a lot riding on its success.
The event features two cards on the same day with a total of 22 fights and 7 belts up for grabs. The morning card, starting at 0900 local time will be the first ONE Championship card to be broadcast live during US Prime Time TV on the TNT network. ONE Championship has plans to vastly expand their US reach and has been opening offices throughout the USA in preparation for their first event there targeted for 2020.
Outside of the USA, both cards will be streamed live and for free on the ONE Super App as well as YouTube.
Century part 1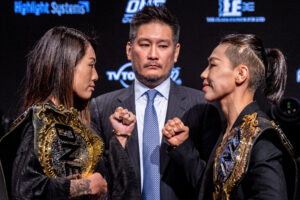 The main event will see Singapore's Angela "Unstoppable" Lee (9-2-0) defend her Atomweight belt against her nemesis, China's Xiong Jingnan (9-0-0). These two women fought a hard 5 round battle in March of this year when Lee went up a weight class to challenge Xiong for the Strawweight belt. Lee almost got the finish in round 4 locking in a deep armbar. The Chinese fighter toughed it out and took advantage of an exhausted Lee in the 5th round to stop the "Unstoppable" with strikes. Expect an intense back and forth exchange. Lee has the grappling capability, but Xiong has a powerful striking game. There is a lot on the line for both women in this bout.
Also on the card, Demetrious "Mighty Mouse" Johnson (29-3-1) faces Filipino Danny "The King" Kingad (13-1-0) for the Flyweight World Grand Prix title. Kingad is unlikely to cause much trouble for Johnson, who still looks as good as ever. Kingad just managed a split decision in his last fight against Reece Maclaren, but it is doubtful that he has the finishing power or technical skills to defeat the former UFC champion.
In the much-blighted Lightweight World Championship Grand Prix Final, Christian "The Warrior" Lee (12-3-0) will fight Saygid "Dagi" Guseyn Arslanaliev (8-1-0). Lee has stepped in as a last-minute substitute for Eddie Alvarez who had to withdraw due to injury. Alverez himself had been an injury replacement for Timofey Nastyukhin. By rights – Eduard Folayang should have been the next in line to re-join the tournament, but visa issues kept the Filipino from participating.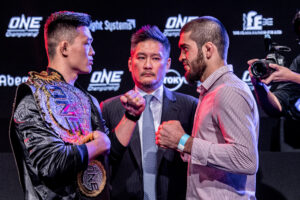 Lee's role here is controversial. Lee is the current ONE Championship Lightweight Belt holder, yet his belt will not be on the line for this fight. Lee took the belt from Japanese veteran Shinya Aoiki, having been gifted a Lightweight title shot despite having only previously fought in the Featherweight division. Lee easily defeated a lackluster Aoiki to claim the title in May of this year, leapfrogging many talented fighters who were hoping for a title shot.
This fight promises fireworks. Dagi is one of the most talented fighters in ONE, having finished every opponent he has faced except his first (his one loss was a disqualification due to an illegal kick). A combination of powerful striking and world class grappling makes him extremely dangerous. Lee is also a talented young fighter who has many tricks up his sleeve, yet he will face his biggest test yet against the fighter from Dagestan.
Century part 2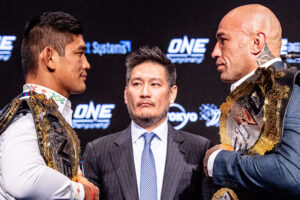 Part Two's main event will see Brandon "The Truth" Vera (16-7-0) challenge Myanmar's "Burmese Python" Aung La N Sang (25-10-0) for the Light Heavyweight belt. Vera is the reigning Heavyweight champion, whereas two-division champion Aung La holds both the Middleweight and Light Heavyweight belts. Two heavy hitters colliding should produce an exciting spectacle. Both Vera and Aung La are huge stars in their native countries (Philippines for Vera and Myanmar for Aung La), making this a South East Asia showdown between two sets of very passionate fans.
Also on the card, the rivalry between Bantamweight contenders Bibano "The Flash" Fernandes (23-4-0) and Kevin "The Silencer" Belingon (20-6-0) continues as these men contest the belt for the 4th time. These men have passed the belt back and forth and it currently sits with Fernandes following the last bout between the two, where Belingon was disqualified for illegal strikes. Belingon is an exciting fighter to watch, a great proponent of Team Lakay's wushu fighting style with a stylish trademark mullet to boot. Fernandes is a BJJ master, yet Belingon has improved dramatically in his defence game. This one could be a close call.
Part Two will also see the final of the Featherweight Kickboxing World Grand Prix with US$1 million prize money to be awarded to either Giorgio "The Doctor" Petrosyan (102-2-2) or Samy "AK47" Sana (135-9-1). This fight pitches two of the world's best kickboxers up against each other in what will no doubt be a thrilling and punishing battle. Petrosyan is known for his clinical precision, yet Sana has huge range and fierce aggression in spades. With serious money on the line – expect both men to leave everything in the ring!
All photos courtesy of One Championship.
Martial arts fan and writer based in Singapore