UFC Fortaleza Betting Preview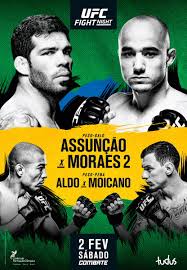 UFC returns this weekend at Fortaleza, Brazil for a well stacked, under the radar card.
There are some excellent matchups this week, so let's see if we can break it down and find a winner or two.
Ricardo Ramos v Said Nurmagomedov
First fight I'm interested in on the prelims. Ricardo Ramos caught everyone's attention with his elbow knock out last year. He was solid against Ho Kang at UFC 227 getting a decision win. He's submission specialist and has seven wins by submission so far on his career.
His opponent Said Nurmagomedov is a standard, Russian grappler. His one sole defeat is to the talented Magomed Bibulatov. No shame in that loss at all. His UFC debut was at 125 so will be interesting to see if he's undersized against Ramos.
My take on this is that I like Ramos at the odds. I think he will have success with his size advantage and is always a danger with his submission game. Nurmagomedov has some nasty leg kicks in his arsenal but I think Ramos is the more dangerous fighter both on the feet and on the floor.
Selection: David Ramos ML $1.90
Ramos Inside the distance $3
Charles "Do Bronx" Oliveira v David Teymur
This is a good matchup that appeals to me for a two-part bet.
"Do Bronx" has to mean submission game that has yielded some impressive victories lately. He made light work of Jim Miller in his last outing and similar results against Nik Lentz and Will Brooks.
The way I see it, "Do Bronx" either gets that sub early or David Teymur finishes him later the fight. Charles had a tendency to give up if things don't go his way.
Teymur is no slouch on the feet and has banged with some tough customers lately. He packs a tidy head kick in his arsenal and if he can survive the early Do Bronx takedowns I think he stands a chance of finishing him in later rounds.
Selection: Do Bronx Round 1 submission $4.50
Teymur Wins By TKO $4.50
Happy to play both for a Return.
Jose Aldo v Renato Moicano
This is an intriguing encounter. Aldo has only been beating by elite 145ers in McGregor and current champion Max Holloway. Moicano's sole defeat is a third-round submission by Brian Ortega, in a fight, he was winning up to that finish.
Aldo looked vintage in his destruction of Jeremy Stephens and it seems that he has not lost that killer instinct. Interesting the Jose wanted this fight over three rounds instead of being the main event and going for five rounds.
My thoughts are that, although I'm a big fan of Moicano I just don't see him subbing Aldo. I also think Aldo will have the better of the exchanges on the feet and hopefully we see him return to those vicious leg kicks which I feel could be a game changer in this fight.
Aldo's a slight dog at the prices so I'm keen to play at plus odds.
Selection: Jose Aldo ML $2
Marlon Moraes v Rafael Assuncao
The main event of the evening is a possible number one contender match-up at Bantamweight.
The two met at UFC 212 where in my opinion, Moraes was unlucky not to come away with the win.
Assuncao has a canny ability to drag fighter down to his level and win decisions. He's riding a four-fight win streak and is by no means a pushover.
Moraes has been in sparkling form himself with two round one knocks out and a contender for knockout of the year against Sterling.
I think Moraes can avenge this loss here, I feel he has the ability to maybe catch Assuncao early or have the fresher legs in the championship rounds and win a decision.
Selection: Marlon Moraes ML $1.56