UFC Sacramento: Could Ladd be up next?
A closer look at the main event of the evening, in what is a potential No. 1 contender fight in the women's bantamweight division.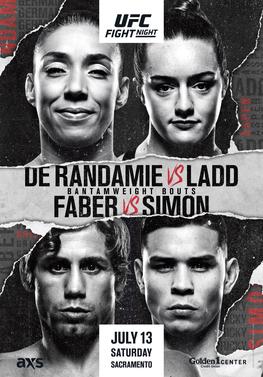 Last weekend in Las Vegas was a classic case of Amanda Nunes showing the world just how big the gap atop of the bantamweight division is.
This Saturday in Sacramento, a new candidate to try and shrink that abyss is likely to be determined — as the undefeated Aspen Ladd is set to square off against the first women's UFC featherweight champion in Germaine de Randamie, in the main event of the evening.
As skilled as de Randamie undoubtedly is, all eyes are set to be on Ladd in this one. The California native — who has been building up quite the hype around herself since making her UFC debut less than two years ago — is one of the two undefeated contenders in the division's top five (Ketlen Vieira being the other), and very likely the next in line should she get her hand raised this weekend.
Ladd has been able to demonstrate quite the skillset in as little as three fights inside the Octagon so far, and you have to think that while all the future hall of famers are struggling to challenge the reigning champ in Nunes — perhaps a rough, yet to be polished diamond, like Ladd, is the type of contender that could surprise "The Lioness."
The one significant question mark around Ladd is the torture that she has to go through while cutting weight down to 135 pounds. And while it is yet to really hinder her performance inside the cage, you have to wonder just how much of an effect it is having on her during fight week, and especially this time around, as she is set to face arguably the greatest test of her young career.
Despite the recent controversy surrounding her name, de Randamie is certainly not a fighter to look past. A gifted striker with Muay Thai and boxing backgrounds, she will be determined to prove her doubters wrong, and claim a shot at becoming a two-division world champion.
While at 35-years-old it is the perfect time for the Dutch fighter to step on the gas pedal and chase another title shot — she is also the ideal opponent to match up against a prospect like Ladd, in order to see if she has got what it takes to compete at the championship level so early in her career.
Having just fought in May, something worth looking out for, and perhaps one of the keys to victory in this fight is going to be whether yet another grueling weight cut affects Ladd's performance in any way this time; or will she be able to once again overcome her fight camp struggles, and take down a big name in de Randamie in a likely title eliminator.
Sports journalist based in CA, USA.
Twitter: @ArionArmeniakos